Workshop: It's never too late to change our story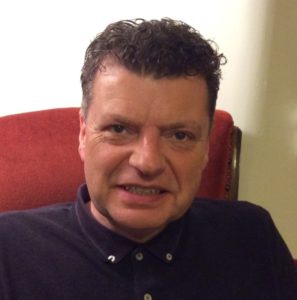 Mike Moss
'What if once upon a time everything we experienced in our life would one day become a story that we could change, depending on how we thought about it, where we could imagine writing the next chapter of our lives?'
If our stories work for us and make us happy then they are welcome and can be celebrated. But then there are times when our stories make things difficult for us, and we struggle with our thoughts. The solution focused scale can reveal those thoughts that cause us pain and those thoughts that create peace for us, and offer us the possibility of a new story and ask us what are we waiting for?
In this workshop I will tell a story about a boy I worked with many years ago, who has now become a wise sage in my story, his answer to a simple question changed my life.
I will also introduce my significant zero in solution focused scaling, that I use in my work with young people up to 25 years old, who experience a wide range of difficulties such as self-harming behaviour, depression, suicidal thinking, bereavement, separation and loss, gender issues, anxiety, trauma and low self-esteem
Mike Moss has 30 years' experience working with Children and families in Scotland. He has trained in Youth and Community Work, Solution Focused Brief Therapy, Systemic Family Therapy, Integrative Therapy and Person Centred Therapy. He is currently employed full time as a counsellor /therapist by West Lothian Council, working with young people up to the 25 years old. He also has a small private practice offering supervision to counsellors. Mike has presented workshops to a variety of people in the helping professions over the years, and is currently involved in developing a guide towards relationship based practice. He is passionate about helping people find ways to make their lives better, and enjoys presenting at conferences and offering experiential workshops, which have been described as passionate, lively and inspiring. He has a particular interest in the transpersonal experience of our journey being human and is continually striving to become more and more of his potential.
for SF practitioners