Workshop: Energizing Communication with Troubled Youth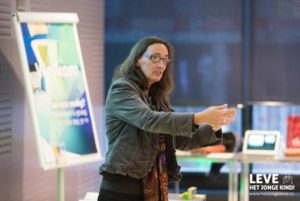 Ella de Jong
The workshop shows the beauty of solution focused verbal conversation combined with empowering non-verbal creative input.
The workshop will highlight the main points of a 3 days SF training course Ella has developed. It's about theory: the values, attitudes and skills required by solution-focused workers (therapists and non-therapists). And it's about creativity.
Many forms of art can create possibilities to feel empowered. During the workshop attendees will experience how art can help your client and you. The assignments are created as a metaphor for 'finding & utilizing strengths and resources'. The attendees can experience the deeply felt hope and believe in possibilities for change like we as solution-focused workers all feel when we work with youth. Experiencing mind opening 'simple' forms of art it's energizing for both you and your client!
The part of the SF theory of the training course is based on the acronym HELP!
Remembering the acronym "HELP!" enables the attendees of the course to be sure they are verbally communicating in the right direction: creating energy through (re) discovering resources and strengths, lighten up (a sparkle of the flame of) hope and most of all: it helps to get and stay connected with their troubled youngster.
Ella de Jong (NL) has decided to ask for 1,5 year sabbatical in order to be able to work full time as a SF trainer, registered schoolcounsellor and writer after 30 years of being a teacher. For 10 years she has followed her SF passion on a "part time" level.
Ella wrote an e-Book "Solution Focused Mentoring. 5 Steps to bring out the best in your Mentee and yourself"(10.000 downloads). She works with Paolo Terni: translating and co-writing his "Mr. Bear books" in Dutch. She presented workshops at SF conferences in Orlando and Denver USA, Halifax Canada and Amsterdam The Netherlands.
Her creative SF training course "Kracht Opbouwende Communicatie – Jeugd" has been accredited by several organizations. Self active work assignments next to humour and creative input: fruitful soil for deep level learning. Also the blind wheelchair attendee was able to participate fully, even during the dancing assignment! The impact on care takers (in the mental health field) who attended has been big. They apply the SF approach at home while communicating with their kids and at work they hear families saying: "No one else ever asked us these kind of questions!".
for SF beginners, for SF practitioners, for SF pros and superheros