Workshop: Coaching and feedback connect people – classroom coaches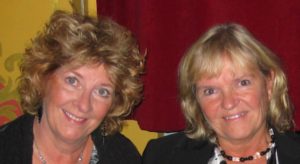 Kerstin Måhlberg, Maud Sjöblom
In Sweden, we have been using and teaching about Solution Focused Education to nurture both intellectual and emotional intelligence for the last twenty years. We believe it provides principles, teachers, school counselors and staff with a proactive way of working and thinking to reinforce positive behaviour in the classroom and in organization based on respect and collaboration that connects people with different qualification.
Many educational professionals across the world have been inspired anew by Insoo Kim Berg, Lee and Maggie Shilts' innovations in "classroom coaching" – a powerful way to help a whole class improve their behavior and indeed their whole learning experience.
When we attended the SFBTA conference in Los Angeles 2003, we met Michelle Liscio who told us about an exciting project she had started together with some of her colleagues in Florida. Two years later, we were invited to visit the school where we also met Lee and Maggie Shilts who started the project with Insoo Kim Berg. They had read and were very inspired by our book about Solution-Focused Education.
Since many schools in Sweden already make good use of elements of SFE, such as positive feedback, setting goals and scaling, we were inspired to take a further step and initiate the
Lip-Focus project. We decided to make a video to record the effect of the project.
In this workshop we will describe how we have successfully adjusted and extended this approach for our own schools, into what we call in Sweden "SFE-Focus".
SFE, stands for Solution Focus Education and Focus stands for, Feedback and Coaching to develop the School.
We will outline the main principles, using video clips from inside the classroom of a mainstream primary school, so you can watch an SFE-coach in action. You will see how pupils are encouraged towards success by establishing goals and scaling themselves to identify progress.
SFE-Focus is a Solution-Focused programme that:
 Highlights and reinforce the pupils´ recourses and qualifications
 Helps teachers and the pupils´ negotiating and setting common class goals
 Encouraging a positive working atmosphere in class
We would like to welcome everybody with connections to the school settings, everybody who likes to get feedback, everybody interested in negotiating goals, everybody enjoying seeing a Swedish SFE-coach in action.
Kerstin Måhlberg, former head teacher, special educationalist, trainer and coach. Since 1994, I have combined my work as a head teacher with presenting training in SFE. My prime inspiration and ambition is to spread the word about solution-focused thinking in the educational field and to apply solution-focused practice to promote better leadership in organizations. My particular interest at the moment is in integrating the findings of recent brain research with Solution-focused Education work.
A member of the SOL International Steering Group. Participated during five years in Steve de Shazer´s supervision group.
Maud Sjöblom, licensed special educationalist and trainer. I have worked as a teacher for 45 years, mainly with pupils with special needs. I do supervise teachers in schools. Together with Kerstin I train teachers in SFE.
I have also been working 5 years in the Child psychiatry with investigations of children, primary ADHD and Asperger's syndrome.
Today, I work in an ordinary school in Sweden with children from 6-13 years old and are responsible for the School Health team.
Kerstin and Maud have together written three books "Solution-focused Education", translated into English, Bulgarian, Dutch, Chinese and very soon Polish. And the second book is Lip-Focus, a handbook about classroom coaching. And the third book is a Handbook for working with: Solution-focused Supportgroups. They are hosting workshop continuously at EBTA, SFBTA and SOL. They are both certified by IASTI: Master Solution-Focused Practitioner, specialization in Special Education.
for SF beginners, for SF practitioners, for SF pros and superheros