Workshop: Before, Best Hopes, and Beyond: Three Different Questions, or… Only One?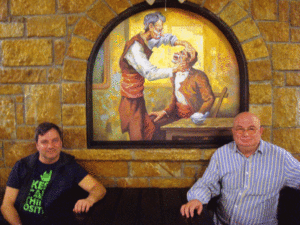 Plamen Panayotov, Boyan Strahilov
In this workshop the differences and similarities among the Miracle Question, the Best Hopes Question, and the Opening Question will be explored in simulated or real practice. Guided by the clients' answers to the Time-Orientation Question (Boyan Strahilov, 2016), these three techniques will be seen both in action and in interaction with each other. Participants will be invited to experience the integrative use of past, present, and possible future tools of solutions-building, and hopefully bring this integration to their everyday practice.
Plamen is a psychiatrist, working as Chief Physician at the Day Clinic of Rousse Mental Health Centre, Bulgaria.
He is Chairman of the Board of Solutions Brief Therapy and Counseling Centre Rousse, non-governmental non-for-profit organization, running a number of social services for people with mental problems, and teaches Solution-Focused Brief Therapy and Simple Therapy at Bucharest University.
As a student of Steve de Shazer and Insoo Kim Berg, he is a fan of doing more with less. Lately, however, he tries to go Zen – doing everything with nothing :).
Boyan is a clinical and organizational psychologist. For more than twenty years he has been engaged in therapy, human resources management, counseling, couching, and training. Author and editor of numerous articles and books in the field of solution-focused psychology.
When not working, he focuses on travel, mountains, open spaces, fish and water, nature, homor, gatherings with friends, and… his baby daughter Ema!
for SF beginners, for SF practitioners, for SF pros and superheros