The Extended iSelf: Using smartphones in solution-focused brief therapy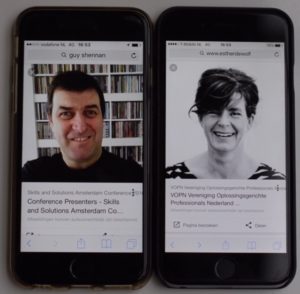 Guy Shennan (UK) Esther de Wolf (NED)
'The best picture of human hopes is the human body', as Wittgenstein nearly said.
Inspired by ideas from the fields of embodied and extended cognition, we have become interested in how therapy can be taken beyond talking. There is so much more to us than the words that come out of our minds via our mouths, and the potential provided by using our bodies and all our senses is huge.
Embodied approaches have brought in movement, dance, music, drawing and other creative activities. Extended approaches can add to this, by seeing the mind and self spreading further, not only from the brain to the rest of the body, but even beyond the body into aspects of the world around us.
An important part of that world for many of us now is our smartphones. So we have been experimenting with making pictures and movies with our clients on their smartphones, showing the embodiment of their hopes, preferred futures and instances of these happening.
We will tell you a little about our experiments, and the background to them, but mainly we want you to experience these for yourselves. So don't forget to bring your smartphones, those essential parts of you!
Esther de Wolf is a solution-focused psychotherapist working in a private practice in Amsterdam. Esther has also been training professionals in solution-focused practice in the mental health care, education and medical fields for almost 13 years. Esther has been the chair of the Dutch Association of Solution Focused Professionals (www.vopn.nl) since 2015.
Guy Shennan is a registered social worker in the UK who works as an independent consultant, teaching, using and writing about solution-focused approaches. Guy's philosophy masters dissertation considered implications of embodied and extended cognition for personal identity, and he is now connecting this with solution-focused brief therapy. Guy is currently the chair of the British Association of Social Workers.
everybody