Talk: 10 key things that SF workers should know to help organizations shift gear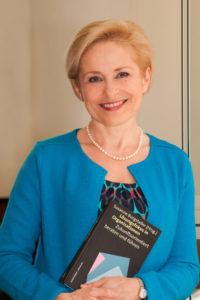 Susanne Burgstaller
The world of organizations is definitely VUCA, and that is to our advantage as SF practitioners working with organizations. In view of the fact that not only the idea of stability within organizations, but also the idea of a stable and predictable process of change is finally being called into question in traditional OD practice, this is our moment! SF approaches to change are much more compatible with what is needed in organizations today, and SF coaches should seize the moment. However, how to avoid the traps that executives are setting for us by expecting normative answers to their burning issues?
In this talk some practical ideas and tips about how to go about facing some of the dilemmas in SF organizational development today are addressed, such as for example: What challenges are organizational leaders struggling with, and how can we help them to address them? How do we deal with questions of organizational design and roadmaps for change in an SF way? How do we cope with apparent paradoxes of stability and (over-)agility? How do we position "SF OD" in the current landscape of approaches and methods? And how do we promote the SF mindset, skill set, and OD toolset, but not as a "recipe-set"? And finally the all-important question: What (big and small) things can SF organizational developers do in their daily work to be effective in making useful developments in their clients´ organisations more likely?
Susanne Burgstaller is an SF organisational consultant, focusing on facilitating change in large organisations and difficult circumstances. She was managing Director of an international company for 8 years, and has been consulting in the areas of OD, HRD, strategy and leadership for the last 20 years. She is the founder and owner of usolvit consultants GmbH, based in Vienna and working internationally. She facilitates change, OD and HRD projects, and has recently benefited greatly from attending the BRIEF Diploma course in London. She has published the book "Solution Focus in Organisations. Consulting and Leading from the Future" in 2015. As a trained linguist she loves language, stories and – of course – SF.
for SF practitioners