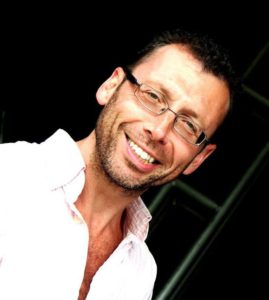 Alex Steele
The spontaneous SF World Choir! (for beginners, more advanced, the creative and adventurous!)
Take part in a special SF experiment which will give you a novel experience of connecting with other human beings; an experiment which immerses you in a feeling of being fully present, and in flow; a new way of experiencing mindfulness; an experiment which gives you a new insight into how you generate energy and how you energise others; a new kind of yoga which requires new levels of awareness of posture and breathing; a novel experience of deep levels of empathy with those around you. In this experiment, you will be guided to sing together in harmony, and to form an incredible, spontaneous SF World Choir! It's a session to energise you in a very special way. It's a session to remind you of how we connect with others. It's for everyone, whether you think you can or can't sing, whether you are a beginner or more advanced. You only need an open heart and a sense of adventure! Welcome to this very special 30-minute SF World Choir experience!
Alex Steele is well known as an international consultant, coach, academic, and jazz pianist, working with teams, organisations and communities to facilitate change, creativity and innovation. He is well known for his work which blends leading edge management thinking and practices, with best practices in areas of science, arts, improvisation and music.
Alex's work focuses on organisational development, leadership, change management, innovation, environmental management, corporate social responsibility and sustainable development, working directly with clients in industry and government, and with leading Business Schools, research centres and universities in Europe, Asia and Africa. Alex is a Visiting Professor in Transformational Learning and Sustainable Development at the University of Liberal Arts Bangladesh (ULAB), and he is a regular contributor to leadership development programmes organised by two of the UK's world-leading centres of executive education, the world-leading London Business School, and the internationally renowned Ashridge Hult Business School. Alex is a passionate solutions focus practitioner, applying SF thinking and practices to work with individuals, teams, organisations and communities.
Alex is the Founding Director of Improwise, an organisation supporting leadership development, change management, transformational learning, sustainability and community development projects, with current programmes in Uganda, Kenya, Bangladesh, Venezuela and Colombia.
for SF beginners, for SF practitioners, for SF pros and superheros, For everyone!