Activity: Awakening the body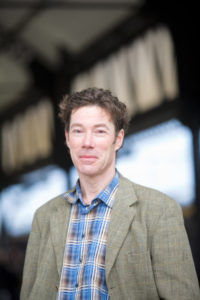 Herman Prüst.
The physical basis of being at our best lies in experiencing our body as relaxed and supple and either calm or energetic or both. No matter our age to experience these sensations in any degree helps us to feel more confident, present and clear. A great preparation for a day full of complex SF thinking matters.
This morning activity will awaken our minds and bodies, especially after the night before. No complex SF thinking. We will easily and playfully go through exercises derived from yoga, dance and body awareness. Nice music will accompany us during the exercises. Exercises will be individually and maybe in pairs.
For everyone!
Herman engaged in dance when he was 19 and becoming a student in psychology. His dancing nature revealed only when he was 37. From that moment on dance is for him the most beautiful way of experiencing and expressing oneself. In his profession as a psychomotor therapist he uses play, dance, sports, bodily exercises and mindfulness. Since his SF training in 2006 he helps his clients experience their preferred future and practice their first or next small steps to accomplish it.
Since 2009 Herman is SF trainer and coach in his private company, Re-source. In his courses he uses extended bodily cognition and mindfulness to amplify the learning of SF attitude and techniques.